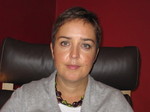 About Counselling & Psychotherapy
Why do I want therapy?
You may have many feelings, which seem overwhelming and are intruding into your life

You may have suffered abuse in the past,which has left you with many difficult feelings

You may have difficulties with anxiety and depression, which is making everyday life very difficult

You may have suffered the loss of someone special, which has left you feeling empty and alone

Life may be changing and these changes could be difficult to cope with

You may be feeling confused as to which direction you want to take in your life or you may be having relationship difficulties

You may also be suffering from self-esteem issues which is making decisions difficult to make

Modern life is very stressful and this could have become overwhelming and difficult to cope with.

Therapy provides

space in which to think about your feelings

a supportive and confidential relationship with another

someone who will listen, enable reflection

the opportunity for you to make the decisions and changes to your life, in a non-judgemental environment

Therapy is especially useful when you are trying to bring about changes to your life.

My particular style of Integration
I integrate the psychoanalytic and humanistic theories with an emphasis on the therapeutic relationship.